Some interesting artwork from the now aborted Dune remake.
Io9
&
Jock's site
Del
Toro
is working on his adaptation of Lovecraft's Mountains of Madness and, according to Empire, is considering
Cruise or

McAvoy
for the lead. It's not due to shoot till next May so he's got plenty of time to change his mind though.
M.Night
Shyamalanga
ding dong is finally making some moves for a
sequel to Unbreakable
- his only decent film. The best bit about the news is he isn't going to write or direct it. Thanks
Cinematical
.
The new Judge
Dredd
film casting continues - Kiwi Karl Urban is already confirmed as
Dredd
and now they've snagged a Judge Anderson in Olivia
Thirlby
. Simply called
Dredd
it's being pitched as a
neo
-
noir
action film and with both writer Alex Garland and director Pete Travis being British I'm quite hopeful though it won't take much to surmount the Sly's 90's version. Via Den of Geek.
I watched
The Sorcerers
not that long ago - a bit of a dud but it had promise, someone else seems to think so and it looks like
heading for a remake
. Shame they're eyeing up Danny
fucktard
Dyer for a role.
io
9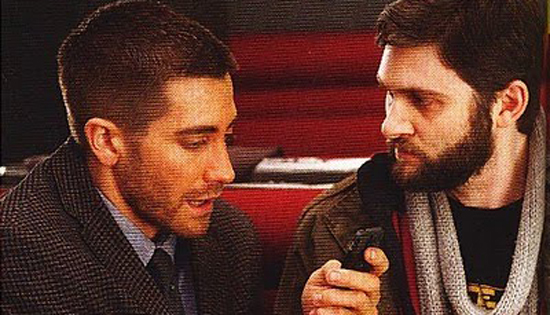 First still from Duncan Jones' next movie - Source Code. Haven't heard much about the film before this and half to say I'm slightly disheartened by
Gyllenhaal's
involvement. From
Slashfilm